Ted Diro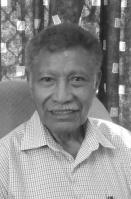 Interviewed by
Ian Kemish and Jonathan Ritchie
Aug 12 2015
Brigadier (ret) Ted Diro was one of the first two Papua New Guinean officers in the pre-independence Pacific Island Regiment, and went on to become the first commander of the independent PNG Defence Force from 1975-81. He discusses his education and military training in the lead-up to independence and his relationship with the governments of the day.
| Time | Summary | Keywords |
| --- | --- | --- |
| 00:00:26 | Ted Diro is welcomed to the interview. | |
| 00:00:52 | Ted Diro talks about the influences from his village on his leadership, including from his father. He outlines his early life and lack of contact with the outside world. He describes stowing away on a boat to Port Moresby in 1953 with the intention of furthering his education and perhaps becoming an interpreter. | Rigo district |
| 00:05:25 | Ted Diro describes his early years in Port Moresby, assisted by relatives who helped him pay for his fare of 16 shillings. He describes the process whereby he was accepted into schools in Port Moresby in the Kila Kila area through his association with the head teacher. He describes studying by kerosene light at night and caddying at the government golf club during the day to earn 1 shilling to feed himself and where he met other patrons who supported him. | education, Port Moresby |
| 00:15:00 | Ted Diro describes taking the entrance exam for the Sogeri National High School where he completed grade 7-9, then Queensland sub-junior and junior exams. He briefly discusses the teachers and other pupils at Sogeri. He describes the allocation of clothing, rations and pocket money at the school. | Alkan Tololo, Ebia Olewali, John Stoles, Michael Somare, Neil Murray, Sogeri High School |
| 00:19:37 | Ted Diro describes the cross section of boys at Sogeri from other districts, and how sports and speaking English united them. He describes basketball and Aussie Rules football games. | cultural diversity, Motu, Norman Fell, sport |
| 00:23:36 | Ted Diro relates how he was a member of cadets and his passion and interest for the military, and the high regard in which teachers and soldiers were held in PNG after World War II. He describes how his relatives were either soldiers or carriers in the war. He relates an anecdote about questioning the pay rate of incoming soldiers compared with the pay in the public service. | Jim Norrie, military, World War II |
| 00:28:23 | Ted Diro relates how he did well enough at Sogeri to get a scholarship to Queensland where he attended Slade School (Warwick, Qld) for one year before joining Officer Cadet School at Portsea, Victoria. | military training, Portsea, Vic |
| 00:29:48 | Ted Diro reflects on the attitude to the relationship with Australia whom he would look to for support to solve problems and raise living and education standards. | relationship with Australia |
| 00:32:03 | Ted Diro relates how in 1963 he was the first Papua New Guinean to attend Portsea. He describes Portsea as everything he wanted - uniform, and training to be fighters and warriors. He describes how he made friends with Australians who would stand up against mistreatment, especially of Asians. | military training, Portsea, Vic |
| 00:34:47 | Ted Diro outlines his thoughts about independence, saying it never occurred to him even at Sogeri. He states that he first became acquainted with the concept while serving in the military on the border in 1965 when John Guise and Pita Simogen arrived at the Vanimo station and said they were speading the message of independence. He states he did not know what independence meant and was ambivalent about it. | independence, Indonesian border, John Guise, Pita Simogen, Vanimo |
| 00:37:36 | Ted Diro makes observations on how the military structures began to change pre-independence, stating that both he and Patterson Lowa were groomed to be commander. He states that the independence messages were coming from the United Nations, and that the military culture regarded many proponents as rabble rousers who were creating instability. | leadership, Norman Fell, Patterson Lowa |
| 00:44:18 | Ted Diro discusses assuming more leadership within the Pacific Island Regiment as Australia withdrew. He states that promotion was rapid, and outlines his opposition to the rapid localisation program, preferring promotion on merit. He recalls asking Brigadier Lawrence Lewis to serve some time after independence as he did not think country was ready. | Lawrence Lewis, Pacific Island Regiment |
| 00:46:47 | Ted Diro describes the complexity of Australia's relationship with Indonesia at this time. | Australia, Indonesia |
| 00:51:03 | Ted Diro recalls the circumstances surrounding his appointment as commander at independence. | Patterson Lowa |
| 00:54:43 | Ted Diro discusses the transition to self government and independence and how he avoided trouble arising between Papuans and New Guineans in the military. | loyalty, nepotism, Papua, Sam Siaguru, Seth Rumkorem, Tony Siaguru |
| 00:58:56 | Ted Diro discusses the relationship between the military and the emerging political class prior to independence, and the military being in the enviable and prominent position of staging celebrations, parades and hosting VIPs. | military |
| 01:01:06 | Ted Diro discusses his role in avoiding military trouble at independence and his view that the military prepare a country for democracy as outlined in his Portsea thesis on the significance of the defence force in an independent Papua New Guinea. He discusses his troubles over the Rumkorem affair. | David Marsh, independence, military, Portsea, Vic, Seth Rumkorem |
| 01:06:35 | Ted Diro discusses the point of tension over his 1977 meeting with the leadership of the Organisasi Papua Merdeka (OPM) the Free Papua Movement. | Benson Garui, Indonesia, intelligence, Kevin Rigg, Organisasi Papua Merdeka, Papua, Seth Rumkorem, Vanimo |
| 01:11:46 | Ted Diro discusses the impact of the PNG government's banning of contact with OPM and the context of Australia's relationship with Indonesia and the possibility of open warfare. | Australia, Indonesia, Organisasi Papua Merdeka |
| 01:14:16 | Ted Diro recalls the events leading to the government discovering he was meeting with Rumkorem and his charge of disobeying a government directive. | intelligence, Philip Bouraga, Seth Rumkorem |
| 01:16:58 | Ted Diro describes the concern about a military coup and his reprimand. | Michael Somare, Patterson Lowa, Pita Lus |
| 01:20:07 | Ted Diro reflects on the role of the PNG defence force and its relationship with government. | PNG defence force, Sandline affair, Vietnam |
| 01:22:35 | Ted Diro recalls the circumstances surrounding the military intervention in Vanuatu. | European Union, France, Jacob Lemeki, Julius Chan, People's Progress Party, PNG defence force, South Pacific Forum, Vanuatu, Warren Dutton |
| 01:27:27 | Ted Diro discusses his strategy for the intervention in Vanuatu and the deployment of troops and equipment. | France, Jimmy Stevens, Julius Chan, military deployment, Pangu Party, Vanuatu |
| 01:36:11 | Ted Diro describes the first contact in Vanuatu. | France, Vanuatu |
| 01:39:15 | Ted Diro describes the impact of the Vanuatu military intervention on the PNGDF in terms of administrative experience, propelling PNG into prominence among the Pacific nations, and in inscribing an ongoing relationship with Vanuatu much like the PNG-Australian relationship over Kokoda Trail. | Kokoda Trail, PNG defence force, Vanuatu, Walter Lini |
| 01:44:46 | Ted Diro describes his personal involvement in the Vanuatu intervention. | Eddie Stevens, Jimmy Stevens, Vanuatu |
| 01:51:27 | Ted Diro outlines the strong relationship between the PNGDF and Australian DF, and the differences in the relationship with Indonesia. He describes the personal impact of the Vanuatu intervention on participants. | ANZUS, Australia, Indonesia, Kokoda Trail, Mutual Respect and Friendship Treaty, Vanuatu |
| 02:00:39 | Ted Diro looks back on his leaving the military and his successor and the changing culture of the military. | Gago Mamae |
| 02:06:37 | Interview ends | |
Biography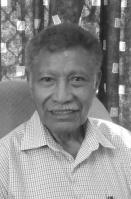 Ted Diro
Brigadier (ret) Edward Ramu (Ted) Diro
Ted Diro was born in the Rigo district of PNG's Central Province and attended Kila Kila school in Port Moresby and the Sogeri National High School. At Sogeri he became actively involved in the school cadets. He completed his secondary education at Slade Anglican School in Warwick, Queensland.
In 1963, with Patterson Lowa, Ted Diro became one of the first two officers to graduate from the Australian Officer Cadet School in Portsea. In the late 1960s and early 1970s he was promoted through the ranks in the pre-independence Pacific Islands Regiment (PIR). In 1973 the former PIR was re-designated the Papua New Guinea Defence Force, and following the formal transfer of defence powers, Brigadier Diro became the PNGDF's first commander on 16 September 1975.
As commander, Diro oversaw the development of the PNGDF and guided its relations with other military forces, including the Australian Defence Force through the Defence Cooperation Program.
In 1977 the PNG government reprimanded Diro for a meeting he had held with a leader of the West Papuan Separatist movement, Organisasi Papua Merdeka. This incident created tension between the still newly-independent government and its defence force.
In 1981 Diro announced that he was resigning from the PNGDF to contest the 1982 national elections. He was successfully elected in 1982, and became a member – and, for a period, leader – of the opposition. He was appointed Minister for Forests in 1985 under Prime Minister Paias Wingti, following Wingti's successful vote of no confidence in the previous Somare government. He subsequently served as Foreign Minister and Minister for Internal Affairs, and then, in the 1988-92 government of Rabbie Namaliu, as Deputy Prime Minister and as Minister for Public Services.
Ted Diro resigned from Parliament in September 1991.
Copyright © Papua New Guinea National Museum & Art Gallery, 2023
The copyright holder of this material grants users permission to access the material on this website for the following purposes only: research and study, education, other non-commercial and non-public uses.